The Summer Academy for Business and Entrepreneurship
All businesses  – small, large, corporate, family – are created, operate and grow following core principles. Complex and diverse, today's global business environment demands leaders with the forethought to anticipate and pivot toward changing opportunity. Leaders are required  to analyze and imagine, to find solutions that create value for a company and its community. From business innovation to socially responsible citizenship, success is more than the bottom line.
5/8/18 UPDATE: We have a 6 spots left. Please complete online registration as soon as possible to ensure your attendance.
Curriculum and Activities
Our program provides you with hands-on learning experience to test-drive business majors.
During the week, you will attend class for three hours a day and participate in a business simulation and team-building events.
– You will be exposed to a fun, competitive environment to gain a fundamental understanding of business and entrepreneurship.
– You will learn how to bring together marketing, management, and finance concepts and principles to maximize shareholder's value of your own firm.
– Alongside peers who are also interested in becoming business majors, you will develop the skills to collaborate with each other in a dynamic way.
– You will have the opportunity to explore a variety of career opportunities in business.
At the end of the program, you will present your learning outcomes to TCNJ Faculty/Staff and your family members. The critical
thinking and communication skills that our program prepares you with will help you pave the way for a successful college experience!
Program Information
Academy Dates: June 25 – June 29, 2018
Monday – Friday: 8:30am – 5:15pm
Faculty Instructor
Jingyi Duan, Ph.D. – Assistant Professor of Marketing and Interdisciplinary Studies
School of Business  – The College of New Jersey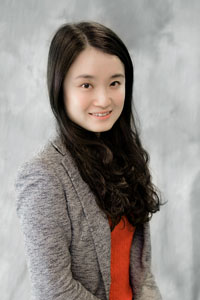 Jingyi Duan received her PhD degree in Marketing from The University of Rhode Island. Her major research interests include consumer behavior on social media, as well as experiential and hedonic consumption. Jingyi has research papers published in Qualitative Market Research and Arts and the Market, and under review at other journals.
Jingyi is passionate about teaching marketing, especially social media marketing and global marketing. During her PhD years, Jingyi taught both undergraduate and graduate courses at University of Rhode Island and Boston College.
She looks forward to connecting with the students and creating opportunities for them to gain hands-on experience in real-world marketing contexts. Prior to her academic career, Jingyi worked as a digital marketing officer in a multinational company in Hong Kong.