The Summer Academy for Science, Career, and Research Exploration
Science is a systematic, dynamic, and creative process of discovery. Whether we want to understand the air that we breathe, the food that we eat, the stars in our sky, the ground under our feet, or the incredible diversity of life on our planet, science allows us to solve even the most challenging mysteries of the universe.
5/8/18 UPDATE: We have a 6 spots left. Please complete online registration as soon as possible to ensure your attendance.
Curriculum and Activities
Students will explore several disciplines by:
designing and conducting experiments
collecting and interpreting both qualitative and quantitative data
analyzing and reporting results to a community of peers and experts
Students will spend two days conducting investigations in Experimental Physics and Field Biology, with an additional two days in which the students will design and conduct extensions to some of these projects. They will also learn about a variety of career opportunities in the natural and physical sciences, and how to prepare for those careers. The experience will culminate with a creative presentation of their work at a mini science conference on campus.
Program Information
Academy Dates: June 25 – June 29, 2018
Monday – Friday: 8:30am – 5:15pm
Faculty Instructors
AJ Richards, Ph.D. – Professor of Physics, School of Science – The College of New Jersey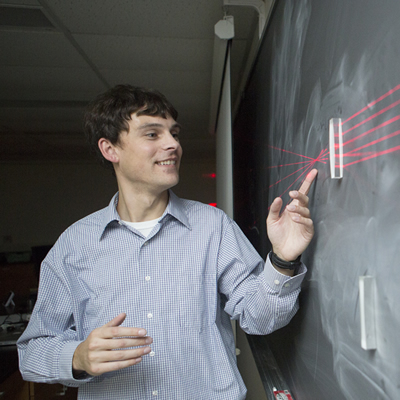 AJ Richards received his undergraduate degree from The College of New Jersey (and loved it so much he couldn't wait to return as a faculty member!); he continued his education at Rutgers University, obtaining a master's degree in high-energy experimental particle physics and a Ph.D. in physics education research, his current research specialty.  As an expert in modern physics teaching techniques, he is always excited to lead interactive, innovative classroom experiences, placing an emphasis on doing science rather than simply hearing and reading about it.
---
---
Matthew Wund, Ph.D. – Professor of Biology, School of Science – The College of New Jersey
Matthew Wund earned his Ph.D. in Ecology and Evolutionary Biology in 2005 from the University of Michigan, Ann Arbor. There he studied the echolocation and foraging behavior of bats, as well as the impacts bats have on mosquitoes. He subsequently held a postdoctoral research fellowship at Clark University, in Worcester, MA, where he investigated the evolution of behavior and morphology in threespine stickleback fish. Since joining the faculty of TCNJ in 2009, he has continued this line of research, which focuses on how these fish respond to drastic changes in their environment, such as when marine stickleback colonize freshwater lakes, or when humans introduce novel predators to their communities. He teaches a number of courses, including "Inquiries in the Life Sciences," "Ecology and Field Biology," Biology of the Vertebrates," and "Ecological Developmental Biology." Dr. Wund is deeply engaged in preparing students to become science teachers, serving as the coordinator for the College's Biology/Secondary Education Program and teaching the life science course required of many of our Education majors.