The Summer Academy for Science, Career, and Research Exploration
The lives of plants and animals are shaped by their environment, and the other living things in it. Ecologists study how living things interact with one another, and how they cope with the challenges of their environment in order to find food, shelter and to avoid predators. In this Summer Academy, students will have an opportunity to become junior ecologists, using the tools and techniques of professional scientists to answer questions about:
o the ways in which organisms respond to changes in their environment
o the choices animals make as they search for food and avoid predators
o how different communities, such as lakes, streams and forests, function
The first two days of the program will involve a series of guided hands-on investigations in the beautiful outdoor settings of the TCNJ campus. Building upon this foundation of skills and knowledge, students will then design and conduct their own ecological investigations over the remaining three days of the program. The experience will culminate in a presentation of their work to an audience of TCNJ Science faculty and students.
Curriculum and Activities
Students will explore several disciplines by:
designing and conducting experiments
collecting and interpreting both qualitative and quantitative data
analyzing and reporting results to a community of peers and experts
If you love the outdoors this academy is for you! Students will conduct investigations in Ecology and Field Biology, with an additional two days in which the students will design and conduct experiments related to their investigations. They will also learn about a variety of career opportunities in the natural  sciences, and how to prepare for those careers. The experience will culminate with a creative presentation of their work at a mini science conference on campus.
Program Information
Academy Dates: July 7 – July 12, 2019
Daytime Program: Monday – Friday: 8:30am – 5:15pm
Residential Program: Sunday – Friday
Faculty Instructor
Matthew Wund, Ph.D. – Professor of Biology, School of Science – The College of New Jersey
Ph.D. in Ecology and Evolutionary Biology, University of Michigan

Matthew Wund earned his Ph.D. in Ecology and Evolutionary Biology in 2005 from the University of Michigan, Ann Arbor. There he studied the echolocation and foraging behavior of bats, as well as the impacts bats have on mosquitoes. He subsequently held a postdoctoral research fellowship at Clark University, in Worcester, MA, where he investigated the evolution of behavior and morphology in threespine stickleback fish. Since joining the faculty of TCNJ in 2009, he has continued this line of research, which focuses on how these fish respond to drastic changes in their environment, such as when marine stickleback colonize freshwater lakes, or when humans introduce novel predators to their communities. He teaches a number of courses, including "Inquiries in the Life Sciences," "Ecology and Field Biology," Biology of the Vertebrates," and "Ecological Developmental Biology." Dr. Wund is deeply engaged in preparing students to become science teachers, serving as the coordinator for the College's Biology/Secondary Education Program and teaching the life science course required of many of our Education majors.
Biology Building
The Biology Building was completed in 2000, and is part of the Science Complex, which houses Math, Chemistry, Physics, and the office of the Dean of Science.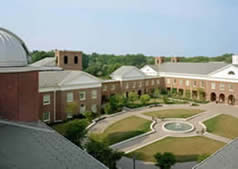 The Biology Building connects with the Chemistry wing of the Science Complex by means of a second floor bridge. The Science Complex is a C-shaped structure that encloses a courtyard (with the Biology Building forming the fourth side of the square of buildings).
The Biology Building boasts 75,000 sq ft of space distributed over three floors and features large, state-of-the-art teaching labs. Each teaching lab serves six lab groups of four students. In the middle of the room, each lab group has a large work table, while around the perimeter of the room each group has a "mini-lab" at which the group can conduct experiments or computer exercises. Each mini-lab includes a computer that is linked both with the instructor's computer at the front of the classroom and with the campus network. Each teaching lab has a complete multimedia teaching system and its own prep room.