The Summer Academy for Global Business
All businesses—small, large, corporate, family—are created, operate, and grow following core principles. Complex and diverse, today's global business environment demands leaders with the forethought to anticipate and pivot toward changing opportunity. Leaders are required to analyze and imagine, to find solutions that create value for a company and its community.
This academy will provide students with the opportunity to explore the various disciplines, careers and majors within business through a hands-on business simulation. Students will form teams and the week will culminate in a mini-competition and presentation; Invaluable experiences in teamwork and problem solving. Ultimately students will have a better understanding of the complexity of global business operations in a dynamic competitive environment and management-related disciplines and the financial implications of the strategic and operational decisions.
Curriculum and Activities
Our program provides you with hands-on learning experience to test-drive business majors.
During the week, you will attend class for three hours a day and participate in a business simulation and team-building events.
– You will be exposed to a fun, competitive environment to gain a fundamental understanding of business and entrepreneurship.
– You will learn how to bring together marketing, management, and finance concepts and principles to maximize shareholder's value of your own firm.
– Alongside peers who are also interested in becoming business majors, you will develop the skills to collaborate with each other in a dynamic way.
– You will have the opportunity to explore a variety of career opportunities in business.
At the end of the program, you will present your learning outcomes to TCNJ Faculty/Staff and your family members. The critical thinking and communication skills that our program prepares you with will help you pave the way for a successful college experience!
Academy Dates: July 7 – July 12, 2019
Daytime Program: Monday – Friday: 8:30am – 5:15pm
Residential Program: Sunday – Friday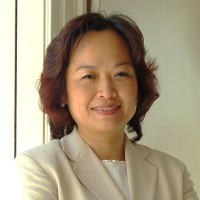 Faculty Instructor
Dr. Lynn Tang, Ph.D. – Professor of International Business and Economics
Ph.D. International Economics and Applied Econometrics, Maxwell School Syracuse University
School of Business  – The College of New Jersey